Cold porcelain at home, two recipes
What is cold china? This is a great material for crafts, which consists of glue, starch, glycerin and oil. There are various recipes for making cold porcelain. It is on the method of cooking depends on the shade of your crafts. Let's start!
Basic rules for working with cold china
Before you start, apply cream on your hands.
After making the mixture, let it lie for a day, then you can start creating crafts.
Improved cold porcelain recipe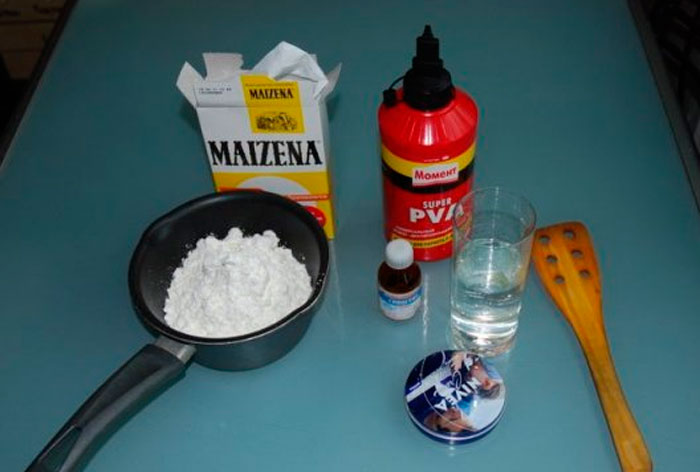 You will need:
Corn Starch (150 grams)
White hand cream (teaspoon)
Glycerin (tsp)
Water (100 milliliters)
PVA glue (150 milliliters)
Pan
Master Class
Take a saucepan and mix all the liquid ingredients.
Stir the elements to a smooth consistency over medium heat.
Gradually add starch and continue to stir.
Keep the mixture on fire until it becomes thick.

Put the mixture on a kitchen towel wet.
Wrap a towel and knead the mixture like dough until it is completely cool.
Remove the towel and continue kneading the mixture with your hands.
Knead until soft and stop sticking.
Put the mixture in a plastic bag.

Video lesson
Making cold porcelain without cooking
You will need:
PVA glue
Soda
Petrolatum
A bowl
Potato starch
Master Class
Take a bowl and mix 2 tablespoons of starch and a tablespoon of vaseline.
Add a pinch of soda.
Add 2 teaspoons of PVA glue.
Stir.

Knead the mass in the hands until soft condition.
Lubricate the mass with petroleum jelly.
Video lesson
Cold china coloring
Color porcelain can be a variety of ways. To do this, use acrylic, oil paints, food dyes. Add the desired color to the mixture and mix like dough.

To paint the finished product, apply the color of your choice with a brush. Then dry the product over the steam of the kettle. With the help of steam, porcelain absorbs paint better inside, and the color looks natural.
Drying cold porcelain
The drying time of porcelain depends on the thickness of the product.The thinner the product, the faster the drying process! On average, porcelain dries from one to five days. To speed up the drying process, use the oven.
Cold porcelain is a soft and plastic material. From it you can create a huge number of crafts.
Related news
Cold porcelain at home, two recipes image, picture